History of the company
Brief history of the company VODNÍ ZDROJE, a.s.:
2010 – Company's headquarters located in Smíchov, Prague 5. For operations in the South Moravia region, worksite in Hodonín is re-established.
2008 – For operations in the regions of Serbia, Bosnia and Montenegro, a branch in Montenegro is established.
2007 – Company NET PLUS s.r.o. becomes the majority shareholder of the company VODNÍ ZDROJE, a.s.
2002 – Subsidiary CZEMUS Co, Ltd. is established in Mongolia, Ulaanbaatar.
1999 – Company's headquarters located in Prague Holešovice. Production department is transferred to Tuchlovice near Kladno.
1992 – by transforming the assets of the company Vodní zdroje Praha, joint-stock company Vodní zdroje a.s. is established as its direct successor, taking over part of the company's management department as well as the branch 01 in Zličín. Also, new independent companies are founded using the mark Vodní zdroje (Holešov, GLS, and Bylany). 
1988 – On the 30th December 1988, legal form of the company is changed to state enterprise Vodní zdroje Praha by decision of the Ministry of Forestry, Water Management and Forest-based Industry of the Czech Socialist Republic.
1983 – Construction of laboratories in Prague Karlín finished.
1979 – From 1st January 1976, branch 01 Zličín based in Lhota and Plzeň, branch 02 Bylany, branch 03 Holešov based in Opava, and branch 04 Hodonín are established within the company.
1975 – Operation on new premises in Holešov initiated, special Department of hydrogeology established to provide hydrogeological services for the Production department Zličín.
1968 – Production department Prague moves to new premises in Prague 5 Zličín.
1967 – Independent National enterprises Vodní zdroje Praha and Vodné zdroje Bratislava established by order of the Ministry of Forestry and Water Management.
1964 – From 8th September 1964, Management Department Prague and Production centres Prague, Bylany, Opava, Hodonín as well as branch Bratislava with its Production centre Prešov established as a result of decentralisation efforts.
1959 – On 1st January 1959, name of the organisation is changed to Vodní zdroje (Water Resources) by order of the Minister of Energy.
1957 –  special budgetary organisation "Hydrogeological survey and water extraction Prague" established by order of the Minister of Energy through detaching hydrogeological survey and well drilling from the Regional administration department of water supply and sewerage systems Prague and Tábor and the Centre for Survey within the Vodoprojekt enterprise. The task of this organisation is to carry out construction and assembly operations relating to hydrogeological survey, well construction, water extraction, and related design and laboratory services.
 Working with drilling rig ZIF 1200 – photo from 1977 - 1987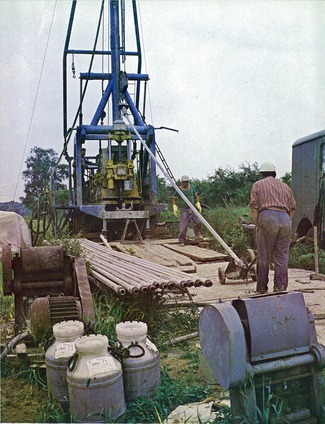 Drilling foreman Červinka's crew on rig BA-15 – photo from 1977-1987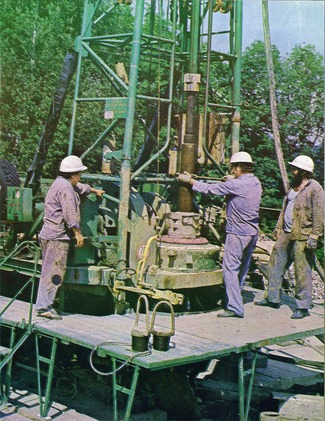 Drilling foreman Tuček's crew working on drilling rig FA-10 – photo from 1977 - 1987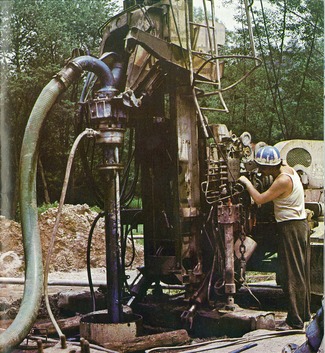 Working with rig UKS 30 – photo from 1957 - 1977